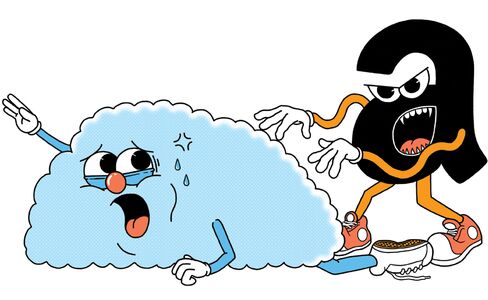 At a February conference for online retailers, the founder of skin-care startup Beauty by Design, David Weissman, tried to kick off an insurrection. His rallying cry: Ditch Amazon Web Services, because the division's profits help support Amazon.com's e-commerce business, a direct competitor to almost every company present at the gathering.
The call to arms at the eTail West conference drew laughter, but it does underscore the quandary many retailers face as they weigh whether to keep buying servers and other computing services, or instead sign up with a cloud provider. Amazon's "retail business is low-margin, and they make up for it with AWS," Weissman says. "It's very profitable revenue that's being used to subsidize other businesses." More companies want to move at least some parts of their business to the cloud, so they can handle extra-heavy sales volume around Christmas, Valentine's Day, or other holidays, and to take advantage of the sophisticated data analytics many cloud vendors offer. While AWS is far and away the market leader, chief information officers at some retailers say they chose to go with Microsoft's Azure, Alphabet's Google Cloud, or IBM's BlueMix rather than entrust important parts of their business to a rival.
"You've got to think about who you're renting your cloud from," says Paul Gaffney, senior vice president for information technology at Home Depot. "If we announced tomorrow that we were renting data centers from Lowe's, everyone would think we were crazy." Home Depot, which began migrating functions such as purchasing to the cloud earlier this year, is working with Microsoft and Google.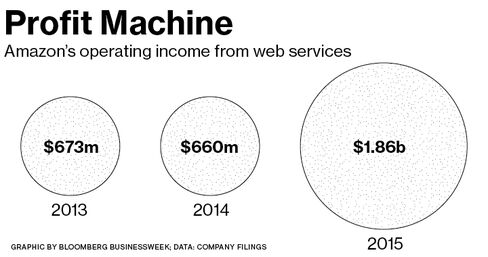 John Strain, chief digital and technology officer at kitchenware retailer Williams-Sonoma, says Amazon being a competitor "absolutely" factored into his thinking when choosing cloud providers, nudging him toward Microsoft. It was also a consideration for 1-800-Flowers.com, which owns fruit-by-mail company Harry & David and other brands, according to Arnie Leap, chief information officer. He tapped BlueMix for order management and fulfillment, though he uses AWS for more plain-vanilla functions, including data storage.
Cloud companies say retailers' reluctance to use AWS comes up in conversations, but none could point to a case where simply wanting to stick it to Amazon was the driving factor. "That's not the foundation for a great relationship," says Tariq Shaukat, who manages customer relationships for Google Cloud. "We want people to think they're going to win by getting more value out of Google." Ariel Kelman, vice president for worldwide marketing at AWS, says his unit "is a separate business inside of Amazon with a different customer base, different services, and a different leadership team." He adds that AWS has many customers that compete against its parent in other areas, including Netflix, a direct rival of Amazon's Prime streaming service. Netflix declined to comment.
Companies such as Williams-Sonoma and Home Depot would have had a tougher time justifying their anti-AWS stance a few years ago, when fewer attractive options existed. Leap, of 1-800-Flowers, says he chose IBM for two reasons. First, his company already has a relationship with Big Blue, which made it easier to integrate its software with the company's existing systems. Second, he thought IBM's Watson, with its analytics prowess, could best help personalize visits to his company's website by, for example, gently encouraging a customer to spend more. "Let's say your average order value is $90," Leap says. Then we "should never present you an offer for a $19.99 bouquet."
Retail startups may find it harder to resist Amazon's siren song. Some already rely on the company to handle distribution and shipping, making it a no-brainer to rent its servers as well. Sometimes, it boils down to engineers simply knowing and liking the service and not wanting to learn how to work with a new one. Beauty by Design's Weissman says that when he talked with his software developers about going with another cloud provider, they laughed. On Amazon, "they just know how to do it," he says with a sigh.
The bottom line: Some retailers are concerned that Amazon is using profits from cloud services to undercut them in e-commerce.
BloomBerg