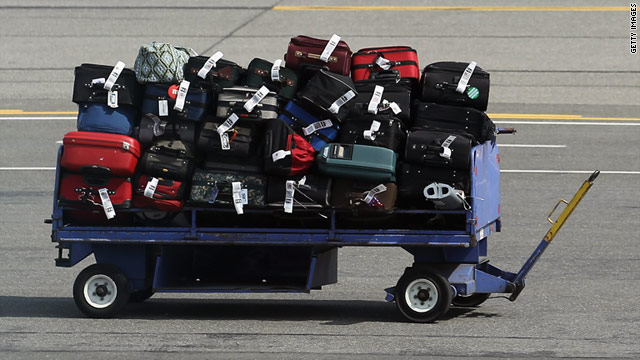 What are your rights in the event that your bag is lost? First, take note of two important regulations that airlines must follow. The Montreal Convention regulates the liability that airlines undertake when transporting checked luggage on international itineraries (even if you depart on a domestic trip and connect to an international flight). At present, 120 nations of the International Civil Aviation Organization (ICAO) members follow the Montreal rules. The remainder, including places like Fiji, Honduras, the Philippines, and Sri Lanka among others, follow older rules signed under the Warsaw Convention.
The Montreal Convention, valid only for international travel and trips partially on international travel, considers baggage lost after 21 days, and it requires airlines to pay passengers a fixed sum calculated in Special Drawing Rights or "SDR" units (currently one SDR is valued at USD $1.46) per passenger while the Warsaw Convention pays based on a fixed amount per pound (approximately $20 per kilo) of each bag lost. Even if your bag is returned to you after 21 days, you are still allowed to claim the compensation since you went three weeks without it. To determine which rules your claim fall under, the country of origin and destination must both participate in the same set of rules. Passengers flying to or from the U.S. (even if there is a connection in another country) are also eligible for rules spelled out under the Montreal Convention.
Get your money back. The U.S. Department of Transportation mandates that airlines return the checked bag fee if someone's bag goes missing. But, the definition of lost varies depending on circumstances, and often if a bag is eventually returned, getting the fee back is more hassle than it is worth. If a bag goes completely missing (that is you don't receive it within 21 days under the Montreal Convention; the Warsaw Convention does not have a date limit), then the receipts and photos of the bag's contents that you originally documented will come in handy to getting compensated for lost items. Claim forms can be lengthy, and airlines will reimburse you for the value of the item at the time it went missing (essentially, the depreciated value). That means that the pair of fancy shoes you bought four years ago are certainly worth less today (Norwegian, for example, will depreciate by 40 percent for any contents over a year old).
Airlines also impose restrictions on claims for electronics and jewelry (two of the pricier things to lose if bags go missing). One recommendation is to keep receipts (or better yet, snap photos) of expensive things you purchase and intend to travel with at some point.
Airlines are only liable for up to $3,550 for domestic travel (this amount is adjusted for inflation each year). International travelers covered by the Montreal Convention are eligible to claim no more than approximately 1131 SDR. Unchecked bags (like carry-ons) carry a liability of up to $400 on international flights.
If your bags contain items of greater value than the imposed limits, be sure to declare that upon check-in for special handling. Airlines do sell excess valuation insurance, but you have to ask for it. Each airline has a different policy. For example, United will only offer it on its own flights or to the point of connection if transferring to another airline. United sells it for $1 for every $100 of declared value and only up to $5,000. Things like electronics, sports equipment, perishable and fragile items, and jewelry are not covered.
Not every airline agent may be familiar with excess valuation so be prepared to ask for a supervisor, especially at smaller airports. Consider excess valuation for things like haute couture clothing, which might need to be checked. Travel expert Henry Harteveldt recommends printing out the airline's contract of carriage from its website if you are carrying expensive items and to allow additional time at the airport to process your request.
Keep in mind that an airline owes you cash (or check) compensation for missing luggage. If a carrier offers a voucher or miles, you have the option to refuse (although sometimes it can be a better deal depending upon your travel patterns).
Can I buy replacement clothes in the interim? Yes, but be sure to keep your spending spree in check. If indeed you need a business suit for an important meeting or black shoes for your tuxedo, then so be it. But, you will have to prove that those items were in the piece of luggage that was lost (that's where those photos of your bag contents come in handy). Airlines will reimburse you for reasonable purchases made at your destination (typically not if bags are lost upon returning home). Keep all receipts and documentation (including airline itineraries, luggage claim tags, and even boarding passes) as airlines will review these details before issuing compensation.
Each airline has limits on how much you can buy, but remember it is either tied to the value of what you had in your suitcase (did you keep a record?) or the flat amount permitted by each carrier determined by the length of the delay.
Should I buy travel insurance? Keep in mind travel insurance typically only covers reimbursement for essential items when bags are lost at the destination, not when returning home. Don't forget that many credit cards provide built-in travel or baggage delay/loss insurance that will cover certain expenses. Be sure to read the fine print as each card issuer uses different standards. Some credit card and insurance providers like Allianz actually include electronics and jewelry, which are often omitted from the fine print of an airline's duty to the passenger, with a reimbursement of up to $500.
Do airlines have a way to back out? Yes. If the carrier can prove it took all reasonable measures to get your bag to you, then it is not liable. This generally applies to situations like extreme weather or mechanical problems with an aircraft. Did the airline take appropriate steps to minimize the delay (finding another plane or assisting to rebook a passenger on another flight, for example).
Keep this in mind before spending money on replacement items, but also consider applying for a refund through travel insurance either purchased separately or through your credit card company. Keep in mind that credit card reimbursement kicks in after whatever your airline pays (or in many cases, does not pay).